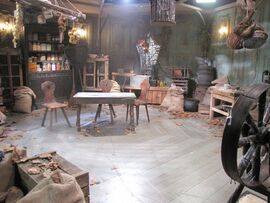 A Child For Tea Is A Mental Floor 3 Challenge Introduced In Series 4, (Ever After) It Is Similair to the One-Eyed Watcher and Poisoned Banquet.
The Caretaker's Explanation to the Game: 'There Once Was A Lady, So Kindly Was She,cooie That Children Were Always Invited For Tea. This Granny Might Seem All Nice, But Beware this Granny is far from it! Come On In, Dear. Take A Seat, You're Just In Time to Taste my Treats! Fatten 'em Up She Might, But Unfortunates Look Out! They Must Eat Two/Three Good Sweets To Pass, But Eating Two/Three Bad Sweets Spells Disaster, And One of Them Can't Be Trusted!'
The Unfortunates Find Themselves In What Seems to Be a Kitchen. On the Ground Are Sacks And Dead Leaves, And In the Middle Is A Table With Three Chairs, One For Each Unfortunate Left. To the Far End Is A Large Shelf Containing Various Jars, And Along the Wall Are Various Kitchen Items, Such As A Cabinet, Cupboard, A Table, A Spinning Wheel, A Wine Rack, etc.
Challenge Character
Edit
The Challenge Character For This Challenge Is An Old, Evil Granny. She Seems to Be Based On the Witch In Hansel and Gretel, In Terms of Her Personality And Appetite For Children, Which Is Strongly Hinted Throughout the Series, Such As One Of Her Comments On the Unfortunates From Pontypool, 'You Look Like Butter Wouldn't Melt... Well, It Might If We Turn Up the Stove!'
The Granny Will Serve the Unfortunates Three Plates, One Red, One Blue, And One Green. On Each Plate There Is A Sweet. The Voice Tells the Saboteur Which Plate Has the Good Sweet On It. It Is the Saboteurs Job to Lead the Others Away From the Specified Plate. If They Do This Two Times (For Some Reason In Series 4, Episode 7, It Was Three Times) Then the Game Is Sabotaged. If Not, Then the Team Pass the Challenge.
Saboteurs & Unfortunates Trapped
Edit
In Series 4, Episode 1 (Gravesend), the First Episode of Ever After, the Saboteur Was Ethan. He Only Just Managed to Sabotage the Game, But Got Detected For Being to Forceful.
In Series 4, Episode 5 (Croydon), the Saboteur Was Daisi, A Boy. Daisi Failed to Sabotage the Game And Got Detected For, 'Playing Against the Team'.
In Series 4, Episode 7 (Pontypool), the Saboteur Was Leah, A Girl. Leah Had Previously Been the Saboteur on Floor 6, Mutternot's Tales. Leah Sabotaged the Game And Didn't Get a Single Vote! Being the Only Person to Be the Saboteur on A Child For Tea And To Get Away With It. Instead, Sam, the Last Boy Left, Got Trapped.
In Series 4, Episode 11 (Livingstone), the Last Episode to Have this Game, Lauren Was the Saboteur. Lauren Failed to Sabotage And Got Detected For Disagreeing With Her Team.
Similarities
Edit
The Game Is Similar to Both Poisoned Banquet And the One-Eyed Watcher For Different Reasons:
In Poisoned Banquet, the Unfortunates Have to Pick From Three Cakes On Each Plate to Eat, Just Like A Child For Tea. But, Whereas In Poisoned Banquet, There Is Two 'Good' Cakes And Only One 'Poisoned Cake', Whereas In A Child For Tea, There Is One 'Good Sweet' And Two Other 'Bad Sweets'.
In the One-Eyed Watcher, Unfortunates Will Have to Follow The Watcher's Eye Underneath the Golden Cups And Find It Three Times. It Is Similar to A Child For Tea Because It Has One 'Good' Answer, (Where the Eyeball Is Hidden), And Two 'Bad Answers' (Where It Is Not Hidden).
Ad blocker interference detected!
Wikia is a free-to-use site that makes money from advertising. We have a modified experience for viewers using ad blockers

Wikia is not accessible if you've made further modifications. Remove the custom ad blocker rule(s) and the page will load as expected.